The FLEXO profile bending machines are designed and manufactured to obtain maximum bending performance and extremely high quality levels.
Designed and built completely in Italy, the FLEXO profile bending machines are on the cutting edge of technology, able to guarantee optimum dimensional finishes and meet maximum production standards.
They are ideal for bending profiles in steel, stainless steel, aluminium, etc. from a wide range of shapes. The FX5.2 series identifies the family of profile bending machines with double pre-bending, suitable for processing beams with very high flexural stiffness, as they are manufactured with a robust electrically welded steel structure, machined on CNC centres to guarantee absolute precision.
The three smooth surface rolls, all driven, are made from NiCrMo alloy steel and are heat treated, which ensures their durability. Rotation is driven by a powerful electric gearmotor. This solution permits very high positioning accuracy. The motion of the two bending rolls is performed by a hydraulic drive system that makes machine positioning very fast.
The two side guide correctors, supplied as standard in manual version, allow the profile bending process to be controlled. In the "TOP RANGE" version (optional) they guide the profile on the three axes, one of which is hydraulically controlled. Bending is controlled using a mobile control pulpit on which both the movement levers and the digital position displays, supplied as standard, are located.
For both roll rotation and hydraulic bending movement, it is possible to apply a variable positioning speed adjustment through inverter.
Easy to use, robust and reliable, the FLEXO profile bending machines guarantee high quality and processing in many sectors.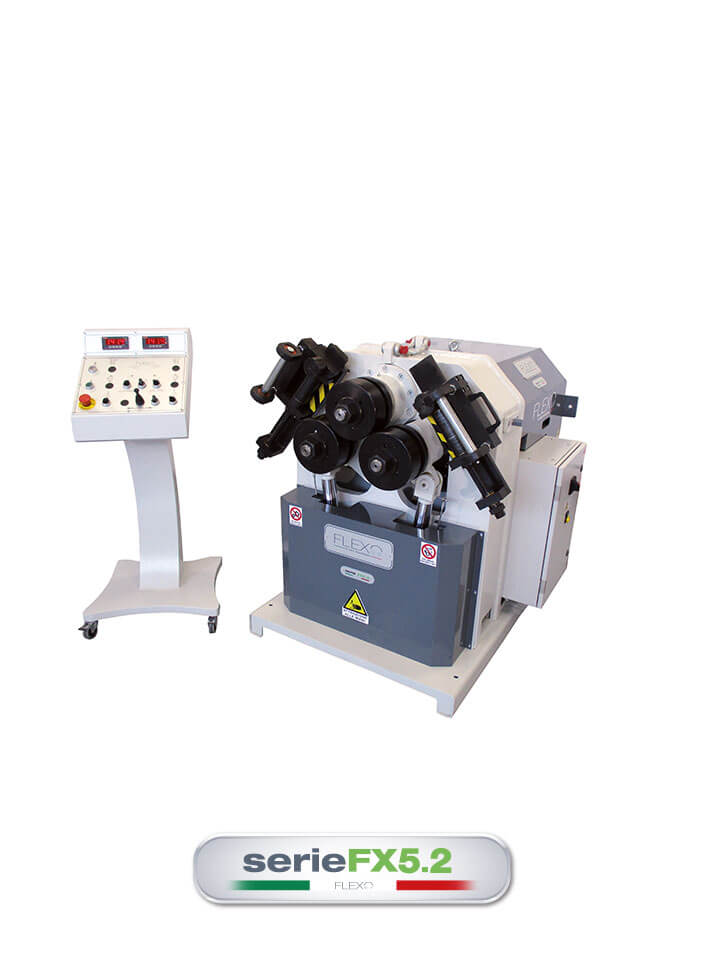 FOR MORE INFORMATION FILL THE FORM!