FX5.1 SERIES
FLEXO profile bending machines are designed and built to provide unbeatable bending performances with outstanding quality standards.
Designed and built entirely in Italy, they are capable of ensuring excellent dimensional finishes and the highest production standards, and are able to bend profiles in steel, stainless steel, aluminium, etc. of the most widely varying shapes.
The FX5.1 series is a family of profile bending machines with, as standard, 2 fixed bottom driving rolls, while the top roll can be raised/lowered by hand (FX5.1.30) or by means of a hydraulic cylinder (FX5.1.50), in both cases with positions shown on a digital display. We guarantee excellent reliability since our profile bending units are built with a rugged one-piece steel structure, machined on CMC milling machines, to guarantee absolutely precise movements.
FX5.1 series profile bending machines are able to process both horizontally and vertically and the three smooth or grooved rolls are in heat-treated NiCrMo alloy steel for the maximum durability over time.
Rotation is powered by an electric gear motor, delivering high torque and positioning accuracy, while the two manual side corrector rolls provide control over the bending process. The bending process is controlled by means of the mobile control pedal unit. An optional inverter can be installed to provide variable roll rotation speed. Easy to use, rugged and reliable, FLEXO profile bending machines guarantee a high processing quality standard for a wide variety of sectors.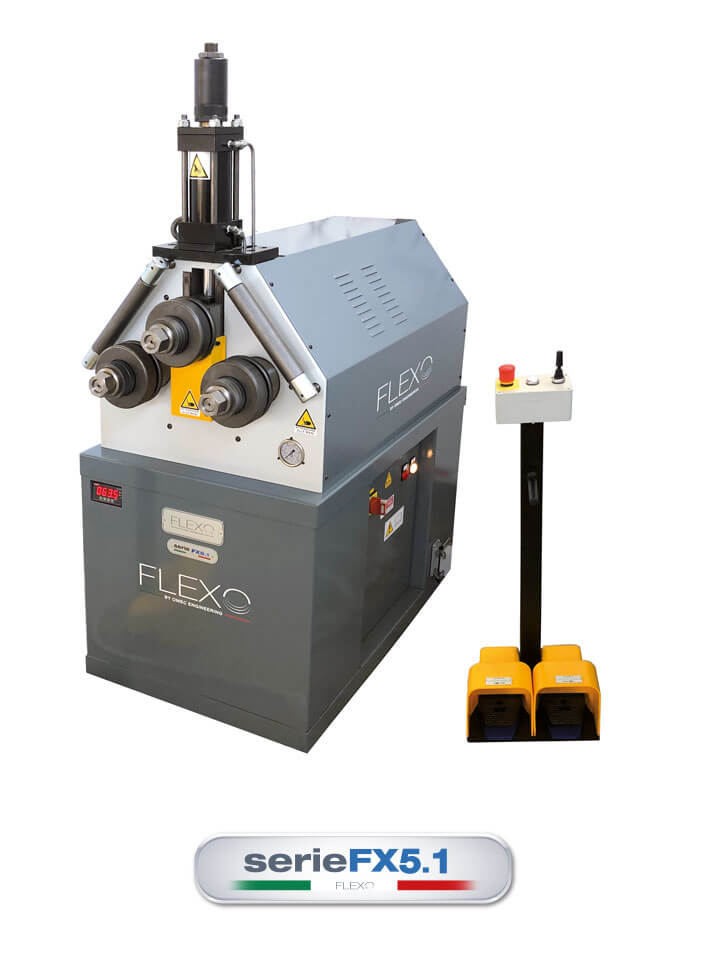 FOR MORE INFORMATION FILL THE FORM!