FX4.2 SERIES
The FX4.2 SERIES comprises MECHANICAL 4-ROLL PLATE ROLLING MACHINES with complete double prebending and frontal release. The top roll is fixed, while the side and bottom rolls have upward and downward travel. The pinching of the plate is extremely easy, since once the plate has been inserted between the top and bottom rolls, the bottom roll rises to clamp it. The second pre-bending takes place through the translation of the side rolls, which are mounted on steel flanges and bearings as standard, for maximum reliability and absolutely straight movement. The top and bottom rolls are rotated by a self-braking motor coupled to a reduction unit. One very interesting option is the installation of an INVERTER, to achieve a variable rotational speed control of the rolls. This option allows to reduce the speed in the early rolling stages, for better control and results, and also for time savings when processing large diameters.
The FX4 SERIES can be equipped with and controlled by a CNC, allowing simple, optimal, automatic control of bending profiles, which can also be saved for subsequent reuse.
Complete with hardened rolls, cone bending device, motorised plate clamping and mobile control pulpit, the FX4.2 SERIES machines offer excellent value for money and is also extremely user-friendly. Many other available options complete the quality during the production.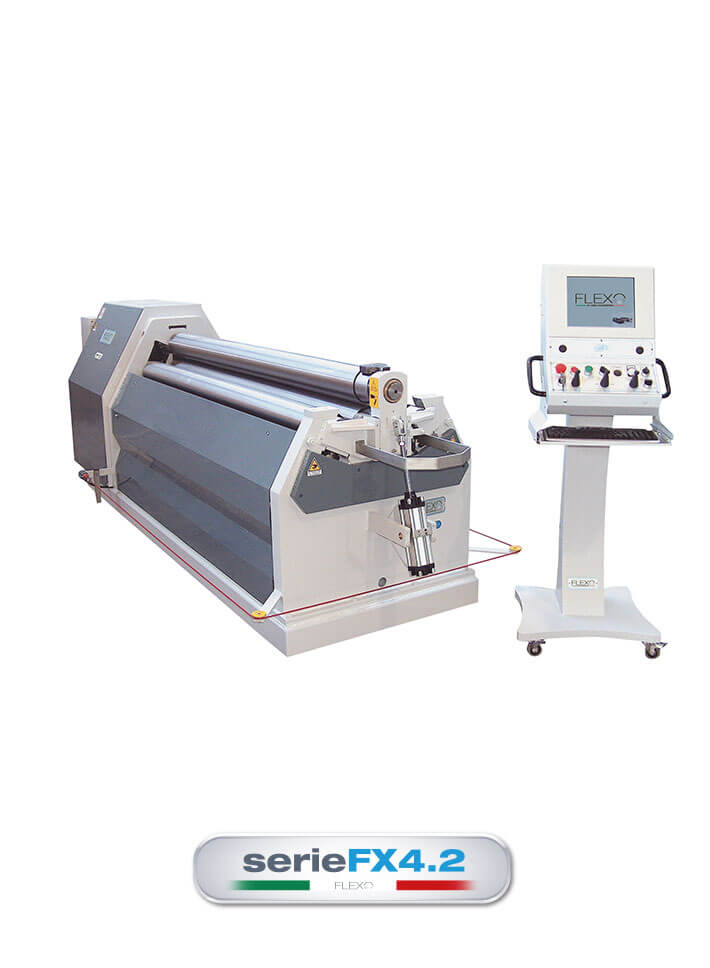 FOR MORE INFORMATION FILL THE FORM!